How do you scan a QR code?
30 Sep 2023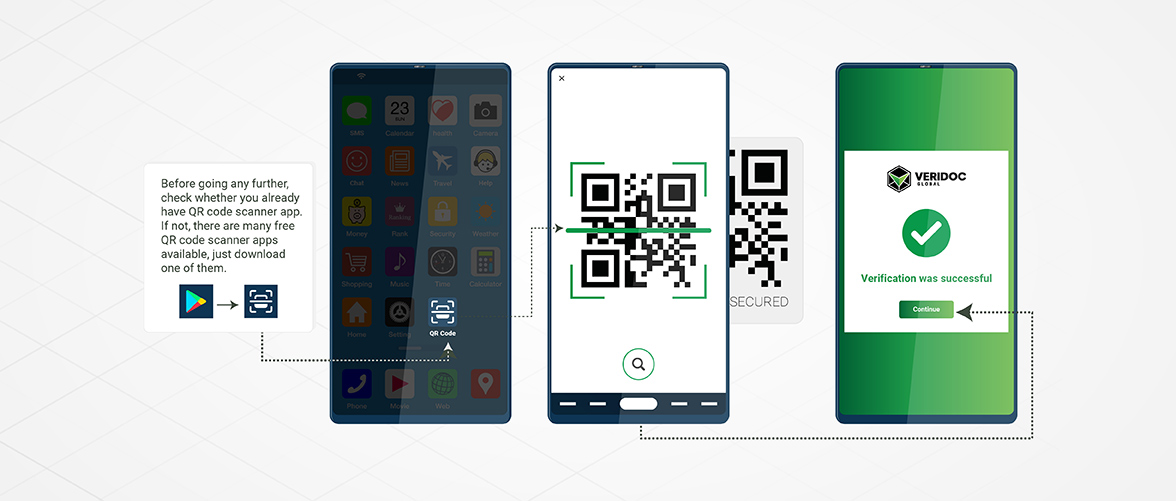 Nowadays, every verification software especially SaaS solutions like electronic signature apps and document management solutions heavily depends on verifiable QR codes to prove the authenticity of any documents to the users/verifiers.
QR cord is a verification system that uses Blockchain technology and smart contracts to combat fraudulent activities, document forgery, and data theft.
Here are some simple ways to scan QR codes using any smart device to verify data easily.
Here are the steps to scan a QR code using iPhone:





Swipe up from the home page and select the QR code button to open the Camera app, or open the dedicated QR code reader from your Control Center.






Scan the QR code with your camera. If you're scanning a QR code, ensure it's inside the box on the screen. It will either open automatically (on the scanner) or a link will appear at the top of your screen (in the camera); simply select it to open the link in your browser.



For Android phones, most of them come with an in-built QR code scanner. Before going any further, check whether you already have it or not. If not, there are many free QR code scanner apps available, just download one of them.





The camera app on most modern Android phones can be used to scan QR codes. Launch the camera or, open the QR code scanner app.






Point the viewfinder of your camera at the QR code.




There might be a brief pause as it decodes the code.




If everything goes well, a link should appear in a small pop-up window. Choose it to proceed to the address.



When the QR code is scanned, it compares the QR code's unique hash value to the authentic and original document stored on the client's server, as well as the blockchain's unique hash value.
As a result, anyone who wants to verify the document's authenticity can scan the QR code and view details on the official database.